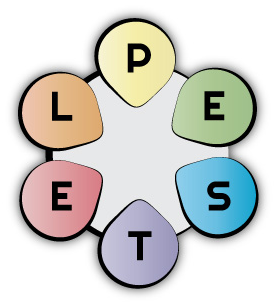 Core-Strategy analytical suite includes Porter's five (5) forces model known as PESTLE Analysis. It allows users to map and understand the external influences that impacts organization's internal initiatives.
What is PESTLE?
PESTLE stands for:
P – Political
E – Economic
S – Social
T – Technological
L – Legal
E – Environmental
Core-Strategy PESTLE analysis allows our users to explore the existing data in external viewpoints by mapping, tracking, measuring, and visualizing how drivers are grouped into PESTLE.
The benefits of using PESTLE analysis
PESTLE analysis is a useful tool for understanding the "big picture" of a business's external environment. By examining each of the PESTLE factors (Political, Economic, Sociocultural, Technological, Legal, and Environmental), businesses can identify potential opportunities and threats that may impact their operations and performance. This can help them make more informed decisions about their strategy and planning.
For example, if a business identifies that there are significant economic challenges in its market, it might decide to focus on cost-cutting measures or explore new markets to diversify its revenue streams. By being proactive and considering these external factors, businesses can increase their chances of success and mitigate potential risks.
DEEP-DIVE
1. Political Factors
Political factors, such as government policies and changes in the political landscape, can have a significant impact on businesses. It is important for organizations to be prepared to adapt their marketing strategies to respond to changes in tax policies, trade restrictions, tariffs, and bureaucracy.
Elections can also create uncertainty for both commercial and non-commercial enterprises due to the potential for shifts in political priorities. To mitigate potential risks and increase the chances of success, businesses should be aware of and consider the external factors that may affect their operations.
Example:
A company decides to shift its operations to a different state after the newly elected government announces specific policies that would adversely affect company operations. You can think of Facebook's new content moderation changes that impact their relationship and influence with different governments in recent times.
2. Economic Factors
Economic factors can greatly influence a business's financial performance. To make informed decisions, it is important for a company to consider economic indicators such as growth rates, interest rates, exchange rates, inflation, and unemployment rates.
By staying attuned to these economic factors, businesses can better anticipate and respond to changes in the market and make strategic decisions that contribute to their profitability.
Example:
A company increases the price of its products and services in response to a steep rise in the inflation rate.
3. Social Factors
Sociocultural factors, such as cultural norms and values, population growth rates, and the age distribution of a population, can play a significant role in shaping consumer behavior and should be taken into account when developing a marketing strategy.
Understanding these social factors can help businesses better understand their target market and create effective marketing campaigns that are relevant and resonant with their audience.
Example:
The rising trend to own new and better-looking smartphones has allowed phone companies to focus their efforts on developing new models with high-end technology.
4. Technological Factors
Technological factors refer to the impact of recent innovations on a specific industry. Staying current with the latest technology and trends is crucial for the smooth operation and progression of a company.
Key technological factors to consider include research and development (R&D), automation, technological incentives, and the rate of technological change. By keeping up with these technological advancements, businesses can maintain a competitive edge and stay relevant in their industry.
Example:
A company decides to add new intuitive development such as artificial intelligence, machine learning, and deep learning to the company strategy to reduce cost and increase efficiencies.
5. Legal Factors
Legal factors refer to the various laws and regulations that businesses must comply with in order to operate legally. These can include industry-specific regulations, licenses, access to resources, quotas, labor laws, and intellectual property rights. It is important for businesses to be aware of these legal requirements and ensure that they are in compliance to avoid any legal issues.
Some legal factors may intersect with political factors, such as changes in legislation or amendments to existing rules. It is important for businesses to stay up to date on these legal developments in order to avoid any potential disruptions to their operations.
Example:
A restaurant is forced to shut down after failing to meet the food safety standards set by state laws.
6. Environmental Factors
The environmental factors allow a company to analyze the effects of the surrounding environment. Key factors include weather conditions, temperature, climate change, pollution, and natural disasters (like tsunamis, tornadoes, avalanches, etc.) Waste disposal laws, environmental protection laws, and energy consumption regulations compel an organization to consider environmental factors while deciding on its strategy.
The physical environment, environmental regulations, natural resources, and other factors affect particular industries more than others. But the way the business operates, no matter what the direct impact of environmental factors, should be informed by the current landscape.
Example:
A natural disaster such as a flood or snowstorm shuts down power for extended periods.
Conclusion
PESTLE analysis is a powerful tool; it helps organizations understand external stakeholder influences and their impact on their strategic initiatives.
In today's hyper-competitive environment, it is crucial to understand that all the above-listed factors directly impact an organization's ability to meet its customer needs, create value, meet legal compliance requirements, and stay ahead of the competition.
Core-Strategy
Core-Strategy is an enterprise-grade strategy management tool for modern enterprises. It helps organizations formulate, plan, implement and evaluate the progress of drivers, goals, and objectives. Providing evidence-based decision management capability to senior leadership. Sign up for a no-obligation trial today!
About Core-CSI
Core-Cyber Security Integrators (Core-CSI) provides trusted, results-oriented, and proven Program/ Project Management, Enterprise Architecture, System Engineering, Business Process Re-engineering, and Cyber Security support services to the US Intelligence Community, Department of Defense, Federal, and Commercial customers across the US.
Proprietary Information© 2022 Core-CSI LLC All Rights Reserved