Strategy is one of the primary levers at top leaders' disposal in their never-ending quest to maintain organizational viability and effectiveness. The strategy offers a formal logic for the organization's goals and orients the people around them. It relies on plans and sets of choices to mobilize people and can often be enforced by both concrete rewards for achieving goals and consequences for failing to do so. Ideally, it also incorporates adaptive elements that can scan and analyze the external environment and sense when changes are required to maintain continuity and growth.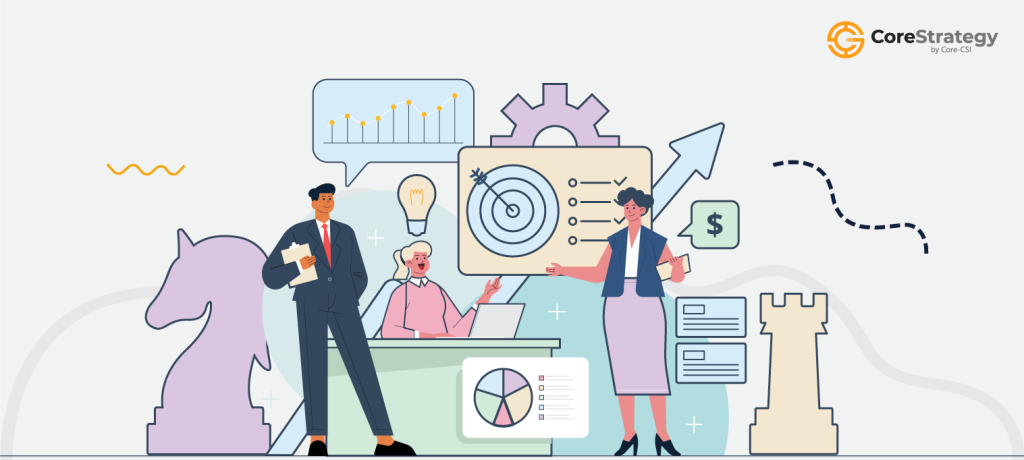 What is Strategic Management?
Strategic management is the process of making strategic decisions and developing a plan to achieve the organization's long-term goals and objectives. It involves analyzing the organization's internal and external environment, setting clear goals and objectives, and devising a plan to achieve them.
This process involves several key components: planning, budgeting, budget control, planning systems, leadership, communication, coordination, and integration. By effectively managing these components, organizations can position themselves for success in the long term.
Strategic Management is Not
Strategic management is not the same as periodic management meetings, corporate communication, or knowledge management. While these activities may be important for the operation and success of an organization, they are not specifically focused on the strategic decision-making and planning process that is at the heart of strategic management.
Periodic management meetings typically focus on discussing and addressing current issues and challenges rather than long-term planning and strategy. Corporate communication is concerned with managing the flow of information within and outside of the organization rather than developing and implementing a strategic plan. And knowledge management involves capturing, organizing, and sharing the organization's knowledge and expertise rather than developing and executing a strategy.
While these activities may be related to strategic management, they are not the same thing. Strategic management is a separate process that focuses on the long-term planning and decision-making that is necessary for the organization to achieve its goals and objectives.
Effective Strategy Development
The strategic management process means defining the organization's strategy. It is also defined as the process by which managers choose a set of strategies for the organization that will enable it to achieve better performance. Strategic management is a continuous process that appraises the business and industries the organization is involved in, appraises its competitors, fixes goals to meet all the present and future competitors, and then reassesses each strategy.
The strategic management process has the following four steps:
Environmental Scanning- Environmental scanning refers to collecting, scrutinizing and providing information for strategic purposes. It helps in analyzing the internal and external factors influencing an organization. After executing the environmental analysis process, management should evaluate it continuously and strive to improve it.
Strategy Formulation- Strategy formulation is deciding the best course of action for accomplishing organizational objectives and hence achieving organizational purpose. After conducting environment scanning, managers formulate corporate, business, and functional strategies.
Strategy Implementation- Strategy implementation implies making the strategy work as intended or putting the organization's chosen strategy into action. Strategy implementation includes designing the organization's structure, distributing resources, developing the decision-making process, and managing human resources.
Strategy Evaluation- Strategy evaluation is the final step of the strategy management process. Evaluation ensures that the organizational strategy and its implementation meet its objectives. The key strategy evaluation activities are: appraising internal and external factors that are the root of current strategies, measuring performance, and taking remedial/corrective actions.
These components are steps carried out in chronological order when creating a new strategic management plan. Present businesses that have already created a strategic management plan will revert to these steps as per the situation's requirement to make essential changes.
"Management Study Guide" – https://www.managementstudyguide.com/strategy-implementation.htm
Components of Strategic Management Process
Strategic management is an ongoing process involving the interaction and integration of several key components. These components include planning, budgeting, budget control, planning systems, leadership, communication, coordination, and integration. Each of these components plays a role in the strategic management process, and they all interact with each other in various ways.
For example, planning and budgeting go hand in hand, as the organization's budget is a key resource that is used to support the execution of its strategic plan. Budget control involves monitoring and controlling the organization's financial resources to ensure that they are being used effectively and efficiently, and this process is closely linked to the budgeting and planning process.
Planning systems, such as performance management and project management systems, support the strategic planning process by providing the tools and processes needed to track progress and make adjustments as needed. And leadership, communication, and coordination all play important roles in ensuring that the organization's resources are aligned and working toward a common goal.
Strategic Planning
Strategic planning and strategic planning models are essential aspects of strategic management and corporate strategy. It involves the development of a long-term plan for achieving the organization's goals and objectives. This process involves analyzing the organization's internal and external environment and identifying opportunities and threats that may affect the organization. Based on this analysis, the organization can develop strategies to help it achieve a competitive advantage and succeed in the market.
Business planning is a related process that involves developing a plan for the day-to-day operations and activities of the organization, which supports and aligns with the organization's overall strategic plan. By engaging in strategic planning and business strategy, organizations can develop effective strategies that give them a competitive advantage and help them achieve their goals and objectives.
Why Strategic Management
The following are a few top reasons that lead to a lack of effective strategic management.
On average, 95% of organization employees are unaware of its strategy or do not understand it.
67% of Human Resources and IT Managers reveal that their effort is not aligned with the organization's strategy.
Budgeting is similarly disconnected, with 60% of organizations not linking their financial budgets to strategic priorities.
70-90% of employee compensation and evaluation initiatives are not aligned with the success of the organization's strategy
Success Stories
In 2004, Chrysler successfully launched a series of exciting new cars despite a weak domestic automobile market and generated $1.2 billion in earnings.
The U.S. Army's Balanced Scorecard project produced an office of strategy management in much the same way. A central project team at the Pentagon headquarters, under the leadership of the Army chief of staff, developed the initial scorecard, which the Army called the Strategic Readiness System (SRS).
Core-Strategy
Core-Strategy is an enterprise-grade strategy management tool for modern enterprises. It helps organizations formulate, plan, implement and evaluate the progress of drivers, goals and objectives. Providing evidence-based decision management capability to senior leadership. Sign up for a no-obligation trial today!
About Core-CSI
Core-Cyber Security Integrators (Core-CSI) provides trusted, results-oriented, and proven Program/ Project Management, Enterprise Architecture, System Engineering, Business Process Re-engineering, and Cyber Security support services to the US Intelligence Community, Department of Defense, Federal, and Commercial customers across the US.
Proprietary Information© 2022 Core-CSI LLC All Rights Reserved