A surprising number of organizations are woefully inadequate at using a prioritization matrix for their projects or initiatives. According to Dictornary.com, prioritization is the activity that helps to arrange work activities or actions in order of importance relative to each other. Understanding how to prioritize work affects the outcomes of organizations' initiatives, leadership and management intent, customer delivery, and individual job satisfaction. Various sectors that deal with large and interdependent complex projects need clear prioritization and understanding of their impacts especially when every initiative and associated appears to be priority number #1 and screaming for your attention.
The most commonly used prioritization model is a 2×2 matrix where an organization can plot initiatives into one of the four quadrants by evaluating their value and risk. Allowing its user to develop the following visualization which is a compelling tool for building consensus and identifying the initiatives that just aren't quite right. One major drawback to this matrix is the relative evaluation of value and risk is left to the user raising questions about the level of sophistication and accuracy. Following is a depiction of the 2X2 matrix.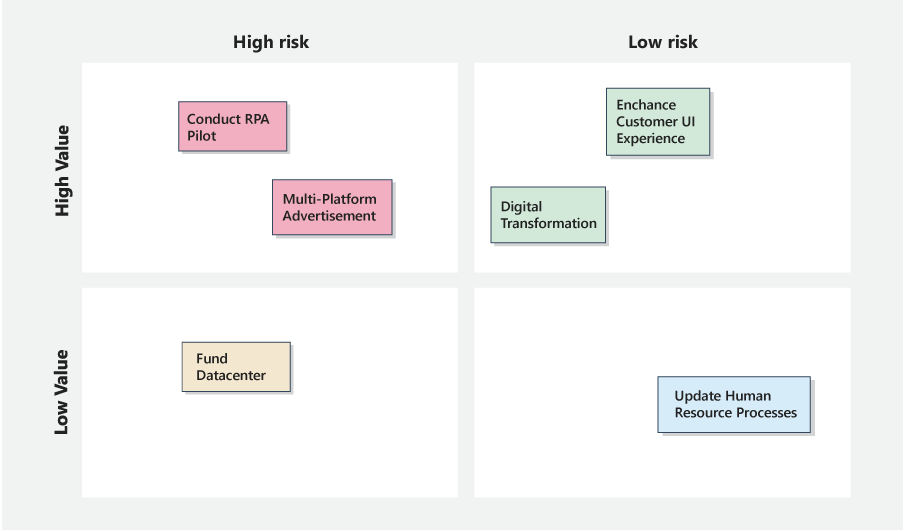 As the complexities of matrix organization and the initiatives interdependencies grow the prioritization and impact model has to evolve to account for potential impacts and urgency when the initiative's priority. Additional dimensions allow organizations to critically evaluate probabilities of outcomes-based factors such as:
Mission Alignment. Do the proposed or existing initiatives align with the organization's Drivers, Goals, and Objectives?
Funding. How much funding is required vs the amount of funding available?
Staffing. Does the organization have adequate human resources and required skills available to succeed?
Dependencies. Levels of external and internal dependencies, usually higher the dependences lead to complexity in execution.
Information Technology (IT). The IT resources are the support function to execute the organization's mission goals and objectives. Nevertheless, secure available and scalable IT infrastructure and organization data play a pivotal role in executing the organization's vision.
No single priority matrix is a one-size-fits-all model, but the additional dimensions provide organizations a comprehensive and concise understanding of organizational priorities. Organizations may also want to consider time as a potential dimension, but it is relative to the expected outcome. If something is prioritized as critical or higher an adequate amount of resources should be allocated to the initiate to meet the expected outcomes.
Why do we need to do something or what are we doing that needs to change? – Organization Mission Alignment.
What resources are required to succeed? – Funding, Staffing, Dependences, and IT.
When are we expecting the results? – Time dimension optional
Note: How initiatives are executed is part of the execution phase, but prioritization and impact analysis done earlier helps level set outcomes expectations and sets initiative for success. Following is a depiction of 5X5 matrix.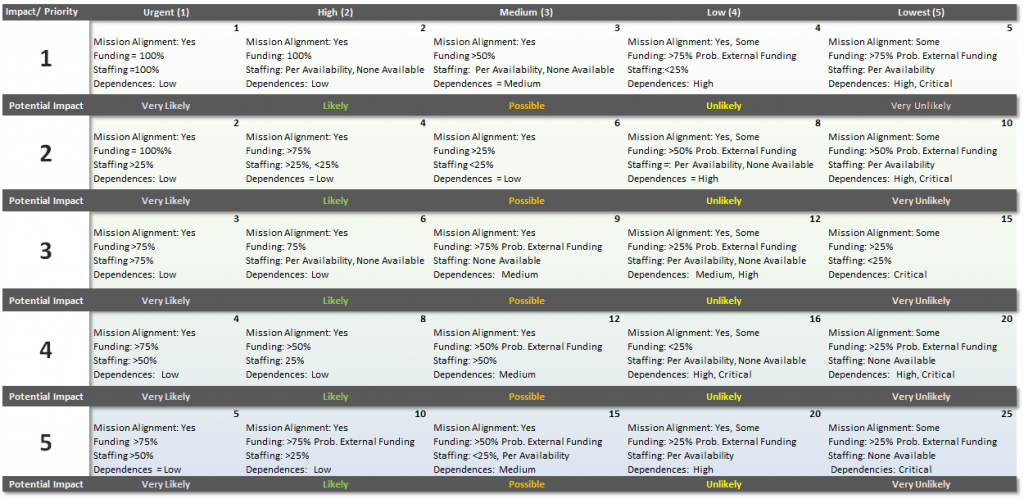 Core-Strategy
Core-Strategy is an enterprise-grade strategy management tool for modern enterprises. It helps organizations formulate, plan, implement and evaluate the progress of drivers, goals, and objectives. Providing evidence-based decision management capability to senior leadership. Sign up for a no-obligation trial today!
About Core-CSI
Core-Cyber Security Integrators (Core-CSI) provides trusted, results-oriented, and proven Program/ Project Management, Enterprise Architecture, System Engineering, Business Process Re-engineering, and Cyber Security support services to the US Intelligence Community, Department of Defense, Federal, and Commercial customers across the US.
Proprietary Information© 2022 Core-CSI LLC All Rights Reserved