Core-Strategy seamlessly integrates various popular workflow management and company strategy execution systems in many organizations, including OKR. The OKR framework within Core-Strategy helps make strategy management transparent and accountable, with the translation of purpose and high-level direction down to operational-level strategy execution, making it a transparent and engaging process.
The mature OKR methodology helps organizations to meet their goals; objectives help drive data-driven decision-making capability.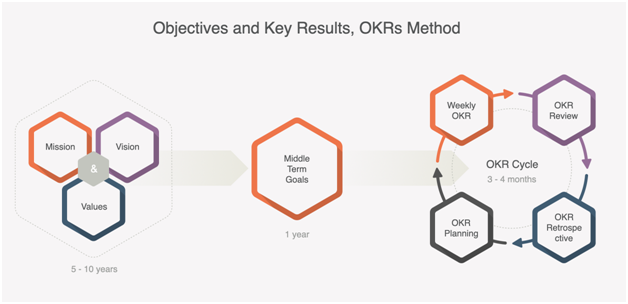 Levels of Strategy
Core-Strategy provides a holistic view of the organization's strategy, capabilities, and resource needs/ utilization. A strategy is a higher-level plan of "What" the organization intends to achieve, by "When" results are expected, and "Who" is responsible for the execution of the strategy. In contrast, strategy execution can be measured by milestones and reporting of leading and lagging Key Performance Indicators (KPIs).
A comprehensive and well-authored organization strategy often includes organization buy-in, mission alignment, realistic goal setting, understanding of customer needs, understanding of resources (funding, human resources and Information Technology capabilities), knowledge of system interdependences and agile, uniform execution. Without acknowledgment and accounting or the factors listed above may lead to brittle plans that break and fail under pressure.
Each organization unit can align to its respective strategic drivers, business goals and objectives, aligning its initiatives, and has the freedom to respond to the milestones and KPIs within the scope of its strategy. The OKR Framework provides a consistent way to align, document, and interconnect all these strategies in a standard format with a common way to track success, failure, and learning while providing the company direction.
Benefits of The OKR Framework
There are numerous benefits of utilizing OKR, including:
Better alignment with organization-wide goals and objectives
Increased data-driven decision making
Enables transparency
Reduces waste
Increases collaboration
Increased awareness of progress towards and achievement of strategic outcomes.
Measurable outcomes
Employee engagement
The result includes increased organizational agility, informed stakeholders, a productive workforce, and near real-time reporting of individual actions.
Common OKR Mistakes
There are several common mistakes that organizations and individuals make when implementing the OKR (Objectives and Key Results) framework:
Setting objectives that are not specific or measurable: OKRs are meant to be specific and measurable, so that progress can be tracked and reported on. If objectives are too vague or broad, it can be difficult to determine whether or not they have been achieved.
Failing to align OKRs with the organization's overall goals and strategy: OKRs should be aligned with the organization's overall goals and strategy to support and contribute to its success.
Not involving the right people in the OKR process: OKRs should involve input and buy-in from key stakeholders, such as employees, managers, and executives. If the right people are not involved, it can lead to a lack of ownership and commitment to the OKRs.
Not setting key results that are challenging: Key results should be challenging and stretch the organization in order to drive progress and achievement. However, the company's goals should also be achievable so as not to demoralize or demotivate the team.
Failing to review and adjust OKRs regularly: OKRs should be reviewed and adjusted regularly in order to track progress and make any necessary adjustments. If OKRs are not reviewed and updated, they can become stale and lose their effectiveness.
By avoiding these common mistakes, organizations can effectively implement the OKR framework and achieve their goals and objectives.
Meet Company Goals and Achieve Key Results
Key results are essential to successfully implement OKR. OKR is a goal-setting methodology that helps organizations to set clear, measurable objectives and track progress toward achieving them. Key results are the specific, quantifiable targets that organizations set in order to measure their progress toward achieving their objectives.
There are several key characteristics of key results that should be considered in the goal-setting process to ensure the company vision is achieved:
Measurable Goals: Measurable key results should be quantifiable so that the leadership team can measure progress.
Challenging: Ambitious goals should stretch the entire organization and require effort and resources to achieve.
Time-bound: They should have a specific deadline, so that progress can be tracked and the organization can stay on track to achieve its objectives.
Specific: They should be clearly defined so that everyone in the organization knows exactly what is expected.
By setting clear, measurable, and challenging key results, organizations can effectively track progress toward achieving their objectives and stay focused on their long-term goals.
OKR Implementation within Core-Strategy
Core-Strategy is a strategic management tool that combines various frameworks and capabilities, such as OKR (Objectives and Key Results), Balanced Scorecard, and modeling and analysis tools. This comprehensive suite of products helps organizations effectively plan, execute, track their strategies, and align their goals and objectives across the organization. By using Core-Strategy, organizations can improve their performance and achieve their long-term goals.
Core-Strategy
Core-Strategy is an enterprise-grade strategy management tool for modern enterprises. It helps organizations formulate, plan, implement and evaluate the progress of drivers, goals and objectives. Providing evidence-based decision management capability to senior leadership. Sign up for a no-obligation trial today!
About Core-CSI
Core-Cyber Security Integrators (Core-CSI) provides trusted, results-oriented, and proven Program/ Project Management, Enterprise Architecture, System Engineering, Business Process Re-engineering, and Cyber Security support services to the US Intelligence Community, Department of Defense, Federal, and Commercial customers across the US.
Proprietary Information© 2022 Core-CSI LLC All Rights Reserved