Overview and guide to implementing a Balanced Scorecard within your Organization
Overview
The Balanced Scorecard is a strategic management tool that allows organizations to monitor the status of the drivers, goals, and objectives. It allows Core-Strategy users to systematically analyze the outcomes of strategic initiatives, establishing priority, organization-wide communication, and alignment of day-to-day tasks against the set-forth objectives.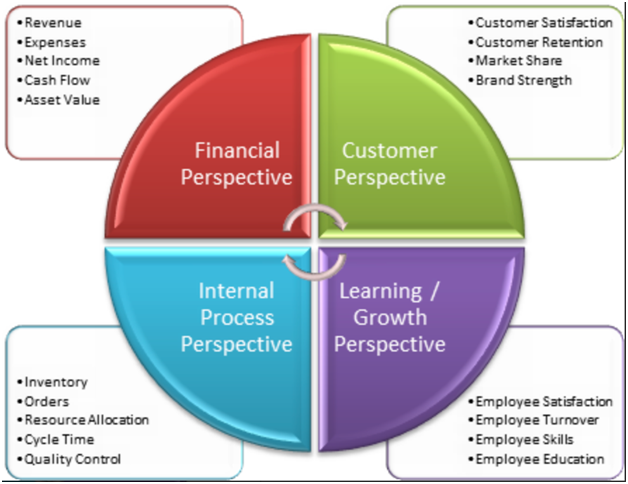 History of the Balanced Scorecard
The concept of the Balance scorecard has existed in various forms since the 1850s.
Robert Kaplan and David Norton first conceptualized the Balanced Scorecard in 1992 by publishing Harvard Business Review (HBR) article, "The Balanced Scorecard"- Measures That Drive Performance," linking the Balanced Scorecard with the performance measures via various perspectives such as financial, customer, business process improvement, innovation training or human resources, etc.
Since early 1990, commercial and Government entities worldwide have adopted this framework. For example, an automobile manufacturer independently used this tool and performed quality surveys, and later, it became the standard of performance across the automobile industry. At the same time, the U.S Department of Transportation measured on-time arrivals and lost baggage metrics for domestic and international flights.
A well instituted Balanced Scorecard
The main objective of the Balanced Scorecard is to have near real-time status of various initiatives across the Organization. Core-Strategy incorporates user-driven perspectives such as financial, legal, internal processes, and customers when evaluating organization performance. The fundamentals that define a well instituted Balanced Scorecard are:
Plan. Focus on Long term planning such as Mission, Vision, Strategy
Define. Establish drivers, goals, and objectives, map initiatives, and establish Key Performance Parameters (KPPs).
Report. Reports status of initiatives and objectives Key Performance Indicators (KPIs) support organizational objectives and goals.
Measures. Evaluate overall health of Organization- a mix of financial items and non-financial items like customers and processes.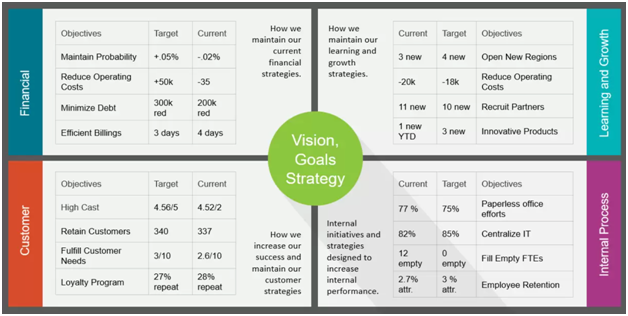 Establish Perspectives
Enable timely, accurate, and relevant information to stakeholders from a single source gold copy repository. The perspectives are a vital pillar of establishing and tracking meaningful measures within the Balance Scorecard. Some of the common perspectives include:
External Stakeholder. Investor, Project sponsor
Organization Leaders. stakeholders, management, and employees
Legal. Policymaker International, national, local law compliance, tax
Financial Management. Financial measures are a critical component of the Balanced Scorecard for external and internal stakeholders. The external stakeholder is concerned about the performance and return on investment. The Organization's financial and business manager is concerned about value creation and spending within the established threshold limits.
Human Resources. Employee retention, training, and development enhance organization skill capabilities to meet its current and emerging challenges.
Benefits of using the Balanced Scorecard
Balance Scorecard helps organizations strategically plan to measure the performance of various initiatives such as customer outreach or technology transformation. The Core-Strategy suite helps prepare strategic plans and helps to map, track, measure, and visualize the overall drivers, goals, and strategy. The goals and objectives are assigned to various initiatives; alternatively, initiatives can be aligned with the objectives and goals using the Goal Cascading methodology.
There are several benefits of using a balanced scorecard to measure the performance of an organization's initiatives:
It provides a comprehensive view of the organization by measuring performance across multiple areas such as financial, customer, internal processes, and learning and growth.
It helps align the organization's initiatives with its overall strategic goals and objectives.
It allows for tracking key performance indicators (KPIs) and identifying areas that need improvement.
It facilitates communication and buy-in from stakeholders by providing a clear and measurable way to track progress and performance.
It helps organizations stay competitive by identifying areas of strength and weakness and making adjustments to stay ahead of the competition.
It helps to make data-driven decision making, by providing information on the performance in the different areas of the business.
It can help identify opportunities for innovation by showing the areas where the company is lagging and where it could improve.
After creating a strategic plan and aligning initiatives with goals and objectives, the next step is to implement the plan and track progress. This can be done by setting up a system for monitoring key performance indicators (KPIs) and regularly reviewing and analyzing the data. The data can then be used to adjust and improve the plan as needed. Additionally, it is important to communicate the progress and performance to stakeholders and the management team to ensure buy-in and support for the initiatives. This can be done through regular progress reports and meetings to discuss the progress and any challenges that may have arisen.
Customer Segmentation
The fundamentals of customer perspective can be understood better by responding to sample questions such as:
Who is the target customer?
What is our customer demanding, and what are their expectations?
What is our unique value proposition to the customer?
Response to these and similar questions can help organizations establish and align their initiatives with established goals and objectives.
Core-Strategy
Core-Strategy is an enterprise grade strategy management tool for modern enterprises. It helps organizations to formulate, plan, implement and evaluate progress of driver, goals and objectives. Providing evidence-based decision management capability to senior leadership. Sign up for a no-obligation trial today!
About Core-CSI
Core-Cyber Security Integrators (Core-CSI) provides trusted, results-oriented, and proven Program/ Project Management, Enterprise Architecture, Systema Engineering, Business Process Re-engineering, and Cyber Security support services to the U.S. Intelligence Community Department of Defense, Federal, and Commercial customers across the U.S.
Proprietary Information© 2022 Core-CSI LLC All Rights Reserved